Yesterday we got the tail end of the hurricane storms.  I spent most of the day absolutely miserable with migraine pain and resulting fairly profound nausea but found a few things to do in the studio.  Mama was with me and the vibe was pretty calm beyond the rain and wind until there was a series of ungodly cracking noises.  And then, in a kind of slow motion way the secondary cracks and crashes of tall trees breaking into pieces.

The first thing I thought and had trouble shaking from my mind was the fact that I'd spent a lot of the day, off and on, making a skeletal plan for a chapter in the novel I'm apparently writing.  I say "apparently" because I'm acting like it was all planned out in advance.  I'm disciplined, structured, and I go to bed and wake thinking about whatever's cooking right then.  I "make time" for tracking reality news-wise the way I used to (occasionally) make time for writing at this kind of level of dedicated concentration and taking myself seriously even if I may forever remain unclear why, exactly.
Specifically, even though it's very on the nose contextually, I have been impelled to title the chapter that next needs writing Officer Down.  So the idea of things crashing in horrible ways was already on my mind  when the trees came down.  My instinct was to run outside and take pictures.  But not before I was sure it was safe because I'd seen wires across the street bouncing all around though seemingly still connected to the poles. 
Called J on the phone and learned he hadn't known where the sounds came from so he hadn't been sure where to look in our landscape of wall to wall trees.  Throughout this time the storm was still in progress.  Once it stopped he called up the stairs pretty much directly.  By that time I didn't notice the weather change or the doors opening and shutting because I was crying while I wrote about a person who doesn't actually exist catching Covid.  Even though I knew he wouldn't die I likewise knew he would wind up with nasty aftermath syndrome travails, and so I was sad about the terribly difficult choices involved with writing fiction.

(which is one of the main reasons I stopped doing it for a quarter of a century.  couldn't handle the responsiblity, man.)
In any event J, by comparison, lives firmly on planet earth any time music isn't involved.  And so he called from the real world to say he'd been out and the road was utterly blocked "no exceptions".  Naturally I grabbed my phone to see for myself.
This was my first shot.  There was mild wind and light rain at the time.  And a husband walking beside me poised to caution and warn in a vast array of ways.   Two species of oak and a double trunked hickory or ash (unclear and I haven't had time to nail it down yet) came down from our neighbor's yard.   They are currently away and the town and utilities people cleared the road and wayside only.  That left us with nothing further to be done.  But the neighbor's driveway was left untouched and completely blocked by the double trunked tree.  That will be a lovely welcome home token whenever they arrive.

The double trunked tree took out their cable line but no other power on the street.  Yesterday and throughout today the vibrational energy on our short portion of the road has felt chaotic and disjointed. A friend suggested I scatter one of the new essences and I'm going with the red clover/chrysoprase elixir. Then in a day or two I'll scatter something else.  Probably Lady's Mantle and Chrysocholla.  
Wondered how many birds had been there roosted in various branches when the trees began to fall.  The double trunked tree fell on the two oaks and severed their crowns.  This afternoon when I went out to take better pictures wrens were absolutely everywhere scavenging among the fallen trunks and branches.  We have at least eight chimes just on this portion of the road including three on our property.  All combined I guess they are a super chime?  It's kind of insane especially now that all the babies are flying and learning their various vocalization patterns. 

***
Yesterday, with J right on my heels insisting it was time to go back in before a greater amount of rain re-commenced, I swiftly gathered branchlets of leaves from the 3 fallen trees.  Those leaves were perfectly formed and glossy with sunlight absorbed much higher in the sky.  Last night I slept with a leaf from each tucked into my pillowcase.  Have no recalled dreams.  But this morning I took them out and placed them beside me on the sheet.  I marveled afresh at their vividly green and marvelously glossy sunstruck perfection.  It was an excellent way to begin the day.

Last night I got a message on my phone from our baker.  She was worried people wouldn't be able to get to her (she lives 'way in the woods) for the bread pick-ups or even out of our own driveways.  That was me at first but I was able to get out just a half hour or so later than usual.  Got there with no problems at all.  Had a lovely conversation with her (she had many suggestions for herbal and holistic support allies for T) which hasn't happened since the old Farmer's Market days of last year. 
*
Is it just me?  I don't think of this time we're in as transitional anymore.  I don't think about "getting back to normal."  I think about what was, what is, and what could be.  period.
*
The clear sailing of the morning's outside errand left me energized to make a bird seed run.  For a solid week their online ordering's been down and I learned just this morning that they have no plans to fix it unless Charlie shuts everything down again. In reference to our governor, Charlie Baker.  Figured since I was headed into a much more densely populated area, the roads would be as good or better as what I'd seen earlier in the day through thick forest.  WRONG.
dear lord.  I drove around and around for a good fifty minutes all twitterpated because I wasn't completely sure (everything gps oriented and other think-for-me bells and whistles has been DISABLED in my car...) where I was.  Finally pulled over to call J for guidance in getting out of an endless hell of detours.  Chain saws were blaring every place.  Once J was on the phone he kept getting stuck on where I was exactly.  He couldn't figure out how I'd gotten there so every time I pleaded with him to focus and help me he'd ask where I was again and I'd tell him and then he'd say "but how'd you get there?"  Engineering brain.  I just couldn't with it after a few minutes.

We are both laughing about it now but at the time when I more or less hung up on him by way of hyper-efficiently thanking him for his time first he said he sensed himself 'swirling in the bowl'.  And gave permission for me to blog about it so there ya go.
All told it took me a little over two hours to run an errand that generally takes 35 minutes and that includes stopping by the river for pictures.  Ack.
Before I went on the most circuitous "quick run out" ever I was working on Officer Down which on this day effectively meant bringing myself to tears every twenty minutes or so.  I have 'known' this particular character for approximately 24 years and he has always been a super introverted massively aggrieved flannel wearing GenX-er but as such he never went anywhere but deeper into my own heart.

One day right after I started writing again I had a basically formless dream of a guy in gold-mirrored shades and when I first woke up I somehow knew it was Jake.  And that he was a fiery ever on point (but in a good if often overbearing way) state trooper rather than a dissaffected online entrepreneur.  I  further understood the latter role more naturally belonged to his daughter whom he over-protects for a number of pivotal plot-point reasons.  These are the kind of things that become commonplace when a universe of your own device needs constant tending.  It is so much more overwhelming and needing of diligence than a garden.  And mentally it involves a inherently wacky split screen way to live but if that's what it takes for me to get myself through the next 90 days or so and whatever's to follow then so be it.
This morning I went into the field.  It's the first day in three solid weeks when I haven't been stuck somewhere between five and seven on the pain level scale.  That kind of existence gets very old extremely quickly.  I have been doing okay because I know how to keep myself relatively comfortable at least 50% of the time.  But neurological disturbance is causing me to drop a lot of things.  Last night J watched me drop three spoons in a row there in our kitchen.  I also dropped the same container of yogurt twice but miraculously it didn't split open on the floor.   It's also difficult to use my words.  I mean in verbal speech here in the walking around world.  But I am quiet anyway.  You wouldn't think it from how many words I employ here online but I'm extremely quiet two thirds of the time.

*
today while I was out I saw a statue of a cat with wings that I wish to bring to the field with Celeste in mind.  I thought at first I wanted it for the spot where we created a memorial garden and intend to bury her ashes.  But then once I got home without having purchased it because I wished it was white rather than brown and stone rather than polymer I saw that where I really ought to put it was right beyond the fire pit in a wild area that is currently the most glorious mosh pit of thick Queen Anne's Lace colonies.  Celeste loved that area in the 7 summer seasons when she reigned supreme.

And so now when I show it to J for his opinion about the brown versus white issue I will also pull up the above picture so he can see where it would live.  This is always helpful for him when I've previously just explained something verbally.  Especially when I'm having trouble getting my words well formulated.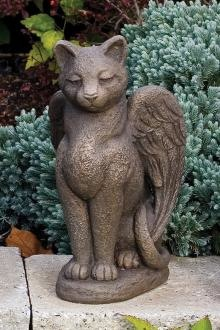 Think she is roughly half the height or just a little more than our Mary.  I think in the field, her browness would be well employed.  Polymer could be a distinct advantage in terms of durability.    Of course she'd come in for winters.  Opinions?